Air Mauritius | National airline of the Republic of Mauritius
With over 50 years of history, the national airline Air Mauritius was created and incorporated in 1967, a few months before Mauritius became an independent country. Since 2021, Air Mauritius has been an integral part of Airport Holdings Ltd (AHL), a conglomerate comprising the entire aviation ecosystem in Mauritius and Rodrigues. Air Mauritius is the first airline in the world to operate both the Airbus A350-900 XWB and the Airbus A330-900neo, the latest generation aircraft.
SAFETY FIRST
The Company adheres to the highest safety standards and its operations are compliant with IATA Operational Safety Audit (IOSA) regulations. In addition to its accreditation as a maintenance agent with the Mauritian Department of Civil Aviation (DCA), Air Mauritius also complies with the European Aviation Safety Agency (EASA) standards, which implies that the airline is authorized to undertake maintenance on aircraft registered in Europe.
4 STAR RATING ON SKYTRAX
Air Mauritius offers quality services to its customers. Its products and services reflect the same brand DNA as the high-end tourist destination it serves, which has earned it a four-star rating from Skytrax. Its aircraft are configured in two classes - Business and Economy. Ground service is aligned to the same standards of excellence, including the Amédée Maingard lounge at SSR International Airport in Mauritius, which is its base of operations. Air Mauritius was awarded at the last World Travel Awards in 2021 and also received the following distinctions:
1. First Airline in the Indian Ocean - The Brand 2021
2. First Indian Ocean Airline Economy Class 2021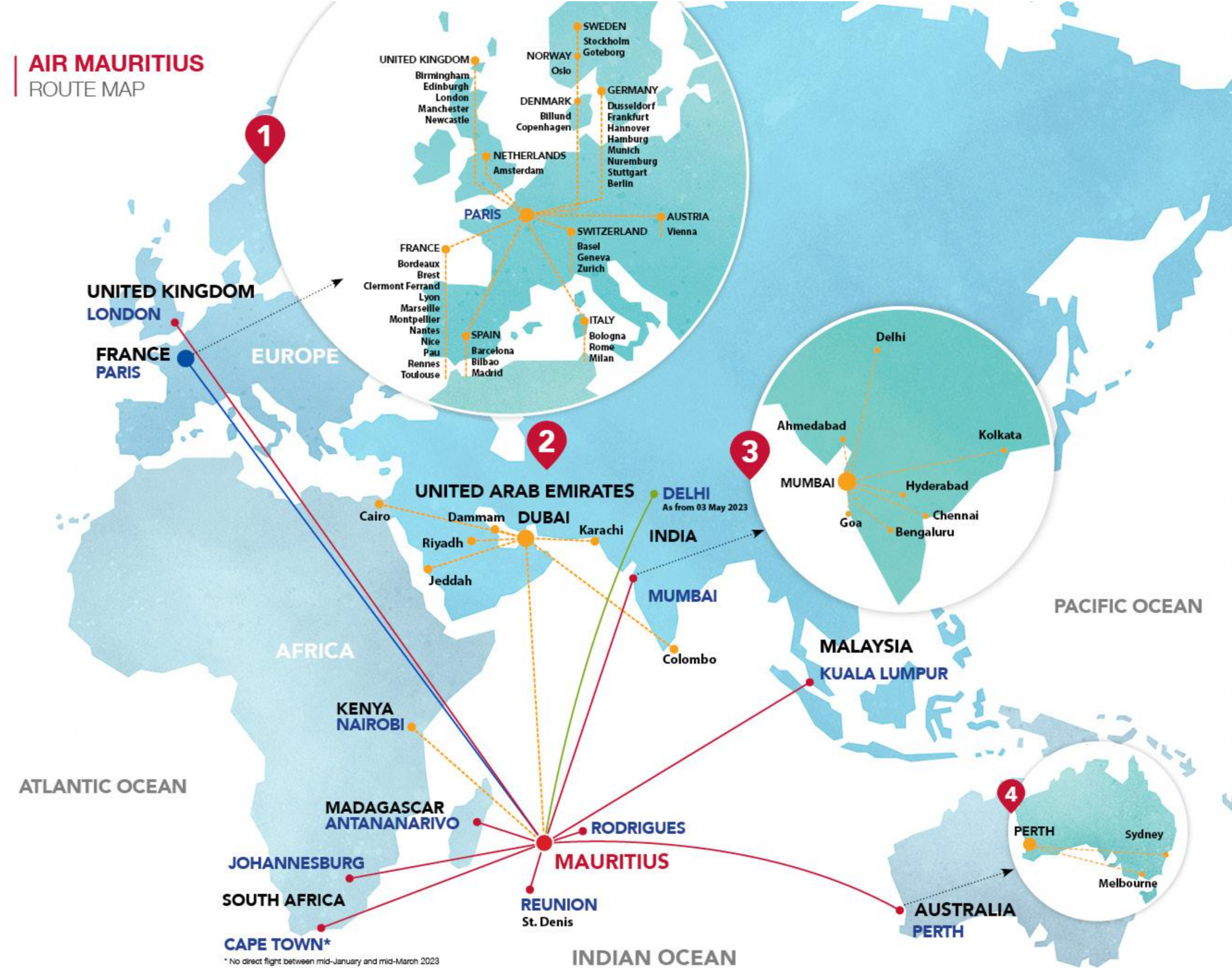 Please write to us at communication@hotelspreference.com if you wish to have more information about our partner Air Mauritius.